A trip to Avignon, this charming city in the heart of Provence is a dream for many travelers. Its rich history, stunning architecture and vibrant cultural scene make it a destination not to be missed. However, you may be wondering whether such a picturesque place comes with a hefty price tag. Don't worry, Avignon has a lot to offer the budget traveler. I will take you on a tour of this extraordinary city and share my experiences, affordable accommodation and hidden gems that allowed me to appreciate the beauty of Avignon without breaking the bank. Join me as I discover the secrets of exploring Avignon affordably, from charming hotels to local insights, ensuring an unforgettable and affordable adventure in this stunning French destination.
My Budget Hotel – Le Magnan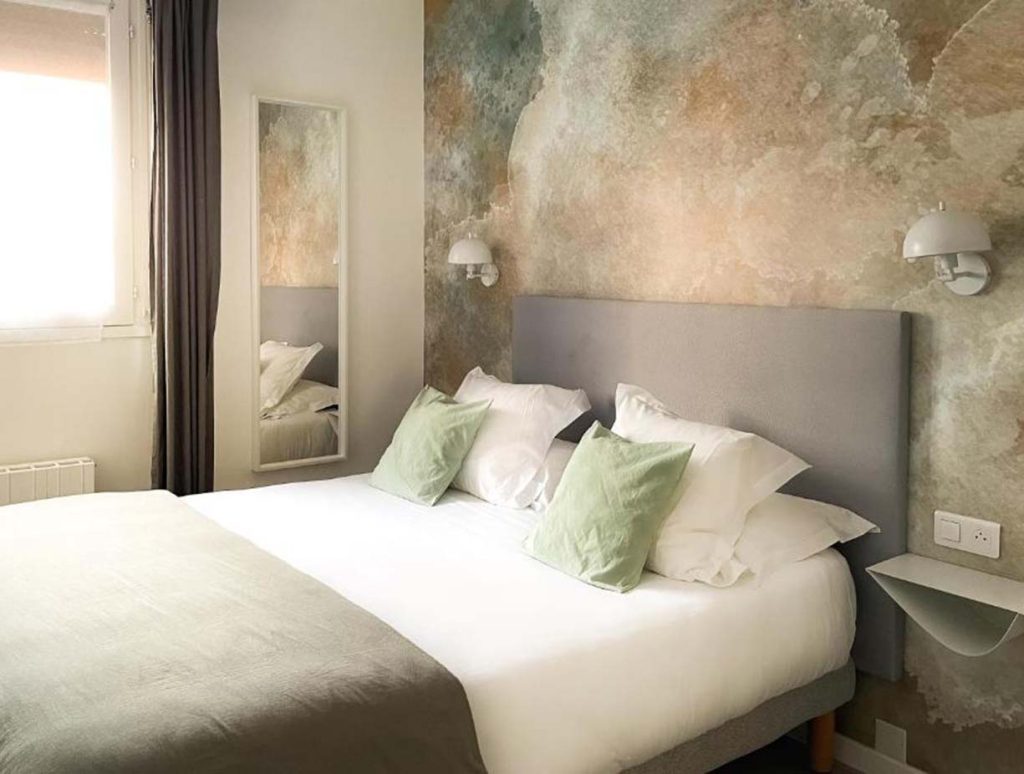 Location: 20 Boulevard Raspail, 84000 Avignon, France
Price per Night: Approximately £120
Booking Platform: Booking.com
My Avignon adventure began with a stay at Le Magnan, and it set the perfect tone for the entire trip. Nestled just a stone's throw from the city center, Le Magnan boasts an ideal location to explore all that Avignon has to offer. The warm and welcoming staff and the cozy ambiance were instantly endearing.
For a budget of approximately £120 per night, Le Magnan offered everything a traveler could wish for. My choice was a standard double room, and I was impressed by the comfort and cleanliness it offered. After a day of exploring the city's stunning sites, the room's double bed provided the perfect haven for rest and relaxation. The en-suite bathroom was clean and well-equipped, ensuring I had all I needed for a refreshing shower and a great start to each day.
The room featured a small work desk, perfect for planning my daily excursions and catching up on some work. The complimentary Wi-Fi was reliable, making it easy to stay connected with loved ones back home. But one of the true highlights was the view from my window. It offered a glimpse of Avignon's enchanting streets, allowing me to immerse myself in the local culture and atmosphere.
Le Magnan offers more than just comfortable rooms; it provides a holistic experience. The hotel has a charming garden, a tranquil oasis within the bustling city, where I often relaxed with a good book or a glass of wine. There's also a cozy lounge area for socializing or unwinding.
Each morning, a delicious continental breakfast was served in the hotel's dining room. Fresh croissants, pastries, fruits, and a range of beverages were on offer, setting a delightful tone for the day and providing the energy needed for my adventures.
The standout feature of Le Magnan was undoubtedly its staff. The receptionists were not just efficient; they were exceptionally friendly and ready with recommendations and local insights. This local knowledge turned out to be invaluable, guiding me towards hidden gems and lesser-known attractions within the city.
Budget-Friendly Gems in Avignon
While Le Magnan was a fantastic start to my Avignon journey, the city had even more to offer for budget travelers. Here are a few other noteworthy accommodations:
Hotel de Blauvac: A Slice of History in Avignon's Heart
Location: 6 Rue Blauvac, 84000 Avignon, France
Price per Night: Around £150
Booking Platform: Expedia
Tucked away in the heart of Avignon's captivating old town, Hotel de Blauvac beckons travelers with its historic charm and inviting ambiance. For around £150 per night, this delightful hotel offers a genuine taste of Avignon's heritage. Let's delve into the details of what this remarkable hotel has to offer.
Hotel de Blauvac is a historic property, and as soon as you step into its well-preserved halls, you'll feel like you've been transported to another era. The hotel's décor seamlessly blends the old and the new. The exposed stone walls and wooden beams tell tales of its storied past, while contemporary furnishings provide modern comfort.
The hotel features a variety of rooms, each with its own unique character. During my stay, I chose a standard double room. The room was tastefully furnished and maintained the historic charm, but with all the modern amenities one could desire. The bed was comfortable and the en-suite bathroom was immaculate, allowing for a relaxing stay after a day of exploring the city.
One of the highlights of this hotel is its charming courtyard garden. It's a serene oasis where you can unwind after a day of sightseeing. The garden is adorned with lush greenery and boasts cozy seating areas, perfect for enjoying a glass of local wine or a good book.
Another exceptional feature is the hotel's proximity to Avignon's key attractions. Palais des Papes (Palace of the Popes), a UNESCO World Heritage site, is a mere stroll away. This convenience allowed me to explore the palace at different times of the day, from the quieter early mornings to the beautifully illuminated evenings.
Hotel de Blauvac offers a delicious breakfast to kickstart your day. Freshly baked croissants, pastries, fruits, and a selection of hot and cold beverages make for a delightful morning spread. If you're looking for a place to dine, the hotel's location means you're spoiled for choice with numerous restaurants and cafes in close proximity.
The staff at Hotel de Blauvac deserve a special mention. Their warmth and hospitality were truly exceptional. They were always ready to assist with recommendations, whether it was the best local restaurants or hidden gems within Avignon.
Hotel de Blauvac was not just a place to stay; it was an immersive journey into Avignon's rich history. If you're looking for an authentic and budget-friendly experience, this gem in the heart of the old town is a choice you won't regret.
Hotel Garlande: A Stylish Haven in Avignon's Heart
Location: 20 Rue Galante, 84000 Avignon, France
Price per Night: Starting at £130
Booking Platform: Agoda
Nestled in the enchanting streets of Avignon, Hotel Garlande stands as an intimate and stylish haven for travelers seeking the perfect blend of old-world charm and modern comfort. Priced from approximately £130 per night, let's explore the unique features that set this hotel apart.
From the moment you step into Hotel Garlande, you'll be captivated by its harmonious blend of old-world aesthetics and contemporary convenience. The exposed stone walls in the reception area are a testament to its history, while modern art and furnishings add a touch of chic sophistication.
During my stay at Hotel Garlande, I chose a classic double room. The room was not just a place to rest but an elegant sanctuary. The tasteful decoration and soothing color palette created a welcoming ambiance. The bed was plush and comfortable, guaranteeing a rejuvenating night's sleep. The ensuite bathroom was well-appointed, making every morning a delightful experience.
Hotel Garlande boasts an exquisite outdoor courtyard, a tranquil retreat within the bustling city. The courtyard is adorned with fragrant flowers and a calming water feature, providing an ideal place to unwind with a good book or simply soak in the ambiance.
This hotel is strategically situated for travelers who aim to explore Avignon's treasures. You're just a stone's throw away from Place de l'Horloge, the city's main square. It's the ideal spot to enjoy a café au lait while watching the world go by. And should you wish to visit Palais des Papes, the distance is an enjoyable walk through the picturesque streets.
Hotel Garlande's breakfast offering is a delight. A sumptuous buffet includes fresh pastries, a variety of cereals, fruits, and beverages to cater to every preference. The pleasant dining area is a great place to start your day on a high note. Plus, with the central location, you're spoiled for choice when it comes to dining options for lunch and dinner.
The hotel's staff further enhance the experience. Their attentive and friendly nature made my stay feel like I was among friends. They were readily available to provide insights and recommendations, ensuring I made the most of my visit.
Hotel Garlande is an embodiment of charm and elegance, ensuring that your Avignon experience is nothing short of remarkable. It's a place that offers you a touch of luxury without breaking the bank. The combination of historic surroundings, top-notch facilities, and the warm hospitality of the staff creates a memorable journey.
Hotel Garlande is more than just a place to stay; it's an extension of your Avignon adventure. If you're a traveler who appreciates a blend of history, culture, and modern comfort, all at an affordable price point, this hotel deserves a top spot on your list. Your stay at Hotel Garlande will be the epitome of style and sophistication in the heart of Avignon.
Hotel de l'Horloge: Where Elegance Meets Avignon's Pulse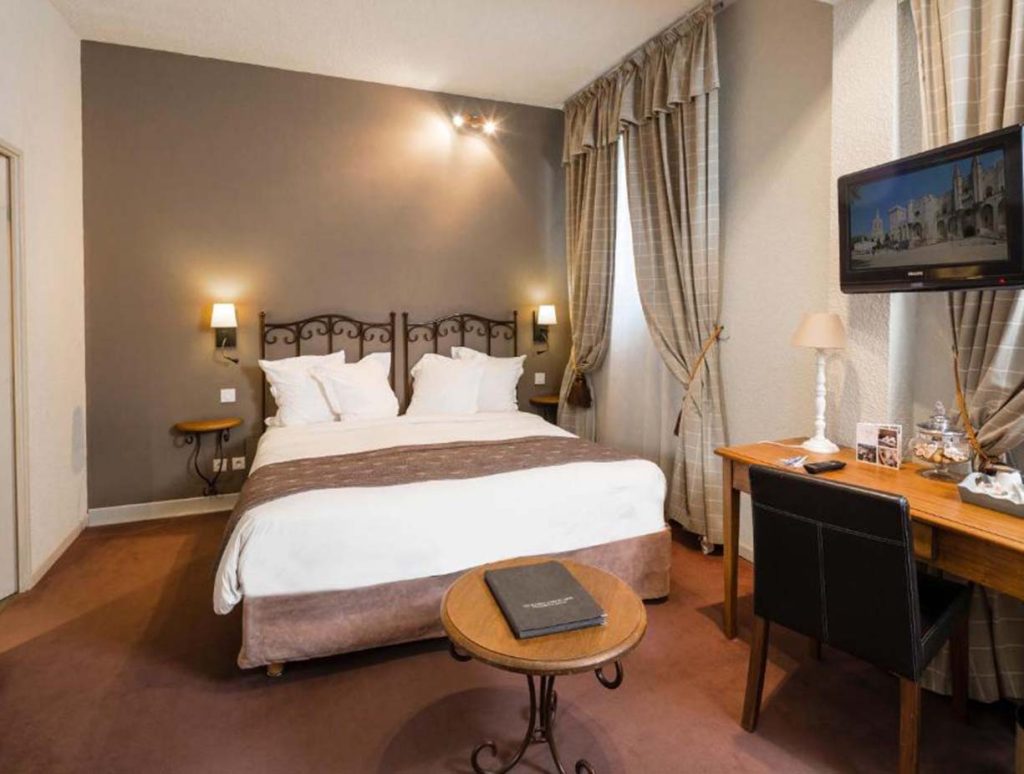 Location: 1 Rue Félicien David, 84000 Avignon, France
Price per Night: Starting at approximately £180
Booking Platform: Hotels.com
Nestled in the heart of Avignon, overlooking the iconic Avignon Clock Tower, Hotel de l'Horloge is an elegant yet budget-friendly choice for travelers. With prices starting at around £180 per night, this charming establishment offers an exceptional experience.
From the moment you arrive at Hotel de l'Horloge, you'll be greeted by the grandeur of its 19th-century façade. The elegant entrance sets the tone for the sophistication that awaits you inside. The reception area, adorned with crystal chandeliers and classic furnishings, exudes an air of timeless luxury.
During my stay at this wonderful hotel, I opted for a superior room with a view of the Avignon Clock Tower. The room was a perfect blend of classic and contemporary design. The large windows allowed for plenty of natural light and offered spectacular views. The bedding was plush, ensuring a restful night's sleep. The ensuite bathroom was a sanctuary of relaxation, equipped with modern amenities.
One of the hotel's standout features is its prime location. You're within steps of Place de l'Horloge, Avignon's central square, surrounded by lively cafés and restaurants. It's the ideal location to immerse yourself in the city's vibrant atmosphere. The central position also means you're never far from Avignon's historic treasures, including Palais des Papes.
Hotel de l'Horloge boasts its own restaurant, where you can savor a delicious breakfast in an elegant setting. The menu caters to various tastes, ensuring a hearty start to your day. The restaurant also offers lunch and dinner, where you can indulge in regional cuisine paired with excellent wines from the region.
The hotel surprises you with an enchanting courtyard. This hidden gem is a peaceful oasis where you can unwind amidst lush greenery. It's the perfect place to enjoy a refreshing drink after a day of exploration or to plan your next adventure.
One of the highlights of Hotel de l'Horloge is the exceptional service provided by its dedicated staff. Throughout my stay, I felt like a valued guest, and any requests or inquiries were met with genuine care. The staff's knowledge of Avignon is invaluable for travelers looking to explore the city's hidden gems.
Hotel de l'Horloge offers a fusion of historic charm and modern luxury, promising a stay you'll cherish. It manages to create a sense of timelessness while providing all the contemporary comforts a traveler could desire. The combination of prime location, stylish surroundings, and attentive service ensures a remarkable Avignon experience.
This hotel not only provides a comfortable place to rest but becomes a part of your journey through Avignon. If you're looking for an establishment where elegance and accessibility come together at an attractive price point, Hotel de l'Horloge should be your choice. Your stay here will be an exploration of the city's essence, with a backdrop of elegance and culture.
Mercure Pont d'Avignon Centre: Where Modern Comfort Meets History
Location: Rue Ferruce, 84000 Avignon, France
Price per Night: Around £200
Booking Platform: TripAdvisor
Tucked away on Rue Ferruce in Avignon, a mere stone's throw from the renowned Pont Saint-Bénézet, the Mercure Pont d'Avignon Centre is a modern haven in the heart of history. With rates averaging around £200 per night, this hotel offers a comfortable and stylish base for your Avignon adventure.
Mercure Pont d'Avignon Centre welcomes you with a chic, contemporary façade that blends seamlessly with the historical charm of the surrounding area. The elegant entrance opens up to a sleek lobby adorned with artwork, creating an atmosphere of modernity and style.
During my stay at Mercure Pont d'Avignon Centre, I opted for a classic room. The room was thoughtfully designed with a modern twist. The comfortable king-sized bed was an ideal retreat after a day of exploration. The room offered a generous view of the city, enhancing my Avignon experience. The ensuite bathroom was well-appointed, featuring modern fixtures and toiletries.
One of the standout features of this hotel is its proximity to Pont Saint-Bénézet, the iconic bridge that Avignon is famous for. A leisurely stroll will lead you to this historic site, where you can marvel at the remnants of this ancient structure. Mercure Pont d'Avignon Centre provides an ideal launchpad for history enthusiasts to explore the city's heritage.
The hotel is home to a remarkable restaurant offering a blend of traditional and contemporary dishes. The innovative menu reflects the culinary richness of the region. You can enjoy your meals in a refined and relaxed setting, with a great wine selection to complement your dining experience.
An inviting outdoor terrace is another highlight of this hotel. It's an excellent place to relax and enjoy a drink while taking in the views of the surroundings. The terrace's atmosphere is particularly magical in the evening, with its soft lighting enhancing the ambiance.
The Mercure Pont d'Avignon Centre is known for its welcoming staff who go out of their way to ensure your stay is as enjoyable as possible. Whether it's recommendations for local attractions, assistance with reservations, or room service, the service here is both friendly and efficient.
Mercure Pont d'Avignon Centre successfully blends contemporary design with the rich historical tapestry of Avignon. The hotel serves as an excellent hub for travelers, allowing you to dive into the city's cultural and historical offerings while enjoying the comforts of modern accommodation.
A stay here is more than just a place to sleep; it's a part of your Avignon journey. If you're seeking a combination of modern comfort, proximity to historical landmarks, and a culinary adventure, Mercure Pont d'Avignon Centre is a compelling choice. It invites you to explore Avignon while promising a comfortable and stylish haven for your travels.
Extra Tips for Budget-Friendly Stays
Traveling on a budget doesn't mean compromising on your Avignon experience. Here are some additional tips to make your stay more affordable:
Book in Advance: Securing your accommodations well ahead of your trip is a smart move. Not only does this offer you peace of mind, but it often comes with substantial discounts. By planning early, you can catch promotions and deals that might not be available to last-minute travelers.
Consider Off-Peak Seasons: Avignon is charming year-round, and visiting during the shoulder or off-peak seasons can be a game-changer. These periods are generally less crowded, and accommodations are typically more affordable. Spring and autumn, with their milder weather, are fantastic times to explore the city without breaking the bank.
Use Comparison Websites: Comparison websites are your best friends when it comes to finding the best deals. Platforms like Trivago, Kayak, and Skyscanner allow you to compare prices across various booking sites. You'll be amazed at how much you can save by finding the most cost-effective option.
Explore Package Deals: Sometimes, bundling your flight and accommodation can lead to significant savings. Many travel agencies and websites offer package deals that include flights, accommodation, and sometimes even tours. These packages can be particularly cost-effective for those who prefer an all-in-one solution.
Consider Hostels and Guesthouses: Avignon has a fantastic array of hostels and guesthouses, each with its unique charm. Don't overlook these budget-friendly options. They provide excellent value for money and the chance to connect with fellow travelers. Many hostels offer private rooms in addition to dormitories, so you can choose your preferred level of comfort.
Your stay in Avignon doesn't have to drain your wallet. By carefully selecting the right accommodation, taking advantage of discounts and deals, and exploring alternatives like hostels and guesthouses, you can enjoy the beauty of this captivating city without overspending. Avignon offers countless treasures, and with the right planning, you'll make the most of your journey without blowing your budget.